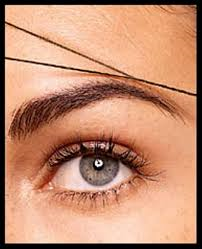 Brow Threading by a Brow Artist: Anu
Because of extremely high demand, We are offering Brow shaping by Threading.
Our team member Anu who is a Brow Artist and a Medical Aesthetician brings a passion for this art with 15 years of exerience and she proves that a beautiful arch will transform all faces. Threading is an ancient art from India that meticulously removes hair in clean, exquisite lines with 100% cotton thread. Each shaping move by hand is quick, done with a rolling action that is loved by many. Along with brows facial threading is done as well.
Our threading is professionally done, personally tailored approach according to each client's bone structure, eye shape, and hair type. We aim to achieve an eye-opening arch while maintaining the most elegant brow possible. It is 100% natural, no chemical, non-abrasive; eyebrows are crisp and precise. Threading does not pull skin and is also an alternative to the clients who have sensitive skin, on medications, on blood thinners, on Retin-A and can get it done after chemical peels as well. Even if your eyebrows are thin or spars, your brows will look fuller with a finer shape.
What exactly is Eyebrow Threading?
Eyebrow threading is a very methodical way of hair removal. It is much different than any other hair removal method out there. The way that it works is by twistingadouble stranded thread, which is always made entirely of cotton, around the hairs on the out surface of the skin. Once the hairs are woven into the thread, they are then pulled out.
What are the Advantages of Eyebrow Threading?
One of the main benefits of eyebrow threading is the fact thattheresults last longer than other methods of eyebrow hair removal. Most people do not notice any eyebrow hair regrowth until three to four weeks after they have eyebrow threading. Another one of the main benefits of eyebrow threading is that it is a lot more accurate than other methods of eyebrows hair removal.
Please book ahead for an appointment as spots tend to fill quickly.
For your convenience, Brow and Face waxing service will be offered as well.